Hangzhou Norming Biological Technology Co.,Ltd is one of the leading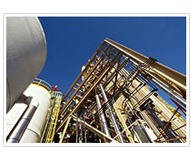 manufacturers and exporters in Zhejiang Province of China. We are specialized in agrochemical industry including herbicides, fungicides and insecticides. Hangzhou Hexin Chemical Co.,Ltd is the subsidiary of Norming Biotech, it is a professional manufacturer for Glyphosate 95%TC, 41%,62% IPA Salt, PMIDA and Tricyclazole TC with a factory area of more than 30,000 square meters located in Xiaoshan economic and technological development zone.
Norming Biotech cooperated with several famous universities for R&D of low-toxicity and environmental-friendly new-type agrochemicals. Most of the employees from Norming Biotech has been engaged in agro-industry for more than 10 years. The factory Hangzhou Hexing Chemical Co.,Ltd has passed ISO 9000 quality certification.
We sell our products to both domestic and global market. Our overseas buyers from different countries including USA, Argentina, Columbia, Thailand, Philippines, Singapore, Vietnam, South Africa etc. We can manufacture SL , EC formulations with different packing specification according to buyer's special requirements such as 1L, 5L, 20L, 200L, especially for Glyphosate 41% IPA salt and Glyphosate 360g/L SL. The turnover of Norming Biotech has reached USD 20 millions in 2012.